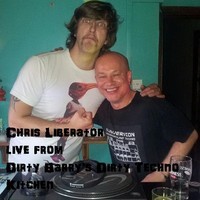 live from Dirty Barry's Dirty Techno Kitchen
We'd booked Chris to come play at a party in Bristol, but even after a heroic drive from the previous gig in Brighton, Chris only got to the venue with 40 mins left to go, so instead of playing a short set, we finished the night and took Chris back to my mate's house (who happen's to have a fully kitted out dj booth and pa set up in his kitchen!) and got him to play at the after party.
So sit back (or stand up) and enjoy 3 hr's of some of the best acid techno around!!!!!!